Houses and More Real Estate 2022 Business of the Year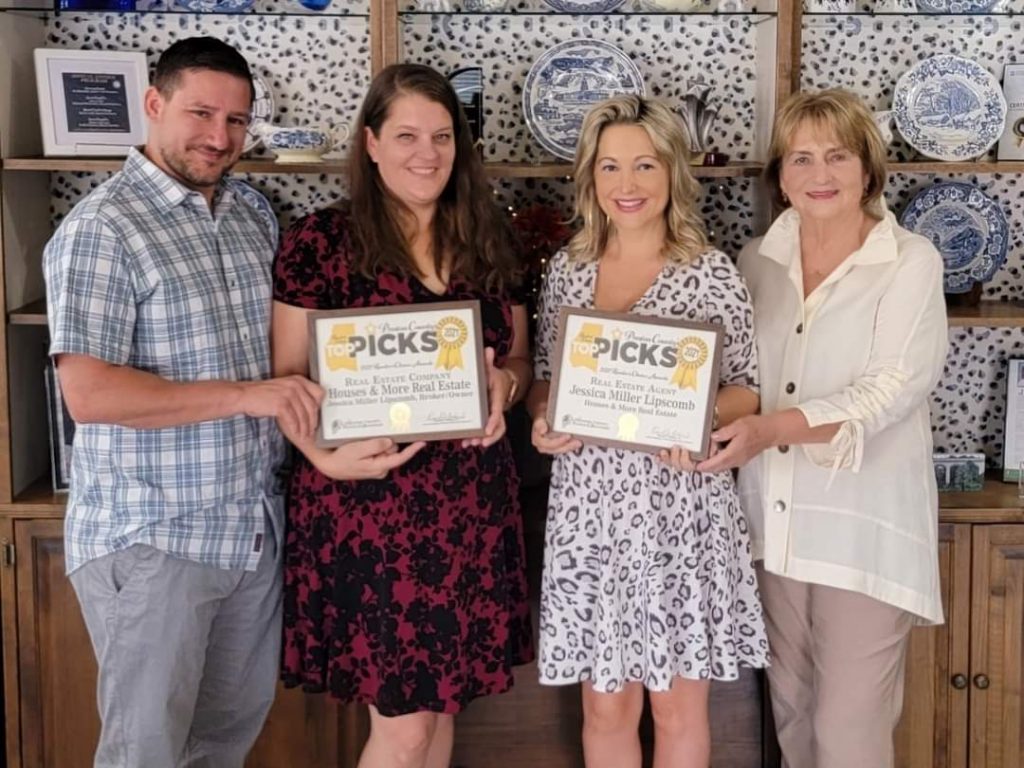 Knowledgeable and Professional Service make Houses and More Real Estate Business of the Year
Over the years, Houses and More has earned both loyal customers who refer their friends and neighbors and a reputation for knowledgeable and professional service.  They were recognized as the Best Real Estate Company in both 2020 and 2021 by Preston Picks in the Preston County News and Journal and they are now being recognized as the Preston County Chamber of Commerce 2022 Business of the Year.
According to Broker Jessica Miller Lipscomb, "Our company was started by Willis Robertson, then purchased and renamed by Mary Burge and then carried on by my Mom, Susan Miller.  I'm honored to now be serving as Broker, as our team strives to continue the dedication to clients and community that Houses and More has been known for over the past 22 years.  We are grateful to the Preston Chamber for this incredible award."
"There have been many sales associates and office assistants over the years who have helped make the company a success – one whose contributions cannot be overlooked is past sales associate/office manager – and special friend – Karen Baylor," stated Jessica.
Today, the current sales team is comprised of Jessica, Susan, and Kari and Tony Moreno along with a full-time office assistant. They continue a company focus on continuing education, client dedication, local market expertise, and above all else, a deep love for Preston County.  "Finding the perfect spot for your home or business is one most important times in a person's life. We are lucky to have Houses and More helping Prestonians make this happen for 22 years. All the extra that Jessica and her staff does for the community doesn't go un recognized. Including proof reading or writing a chamber article from time to time! Thanks for all you do and congrats on being named our 2022 Business of the Year," Bo Burnside.
Houses & More hosts an annual "Share the Love" pet food drive for Preston County pets in need each February and participates annually as a donation location for Honor4All, a fundraiser benefitting local foster care children.   They also participate annually in school outreach programs throughout the county that teach local 8th graders the importance of establishing a good credit score and understanding the different factors involved when purchasing real estate. Additionally, they are involved with many local organizations, including the United Way of Mon & Preston Counties and the Preston County Chamber of Commerce.
Houses & More focuses on single family home sales, land/farm sales, residential and commercial rentals, and commercial property sales.
"We do what it takes to help clients achieve their buying and selling goals- from helping understand market values to guiding them through the sales process – even pet sitting in the car so clients can go inside to sign closing documents," Jessica said.
The real estate market is ever-changing. Houses & More focuses on on-going CE and continued development of the latest real estate technologies. Our agents go above and beyond to obtain certifications and designations from the National Association of Realtors.  According to Jessica, "Happy clients are what we strive for!"
In recent years, Jessica has received many awards like being named WV's REALTOR® of the year in 2020 and WV's Rising Star in 2019 by the WV Association of Realtors®.  The Morgantown Board of Realtors® honored Jessica with the Rising Star award in 2013 and the President's Award in 2015 and Realtor® of the Year in 2016.  Jessica has also served as a two-time past Secretary of the WV Association of Realtors® and as the past President of the Morgantown Board of Realtors®.  "I've had the pleasure of working with Jessica for several years.  She is always professional and on top of her game.  Her staff is filled with friendly, community-minded individuals who always go above and beyond to help their clients.  Congratulations on being named our 2022 Business of the Year, you deserve it," stated Kristy Ash, Chamber Executive Director.