Home

/

Sunrise Sanitation Hosts Chamber Business After Hours
Sunrise Sanitation Hosts Chamber Business After Hours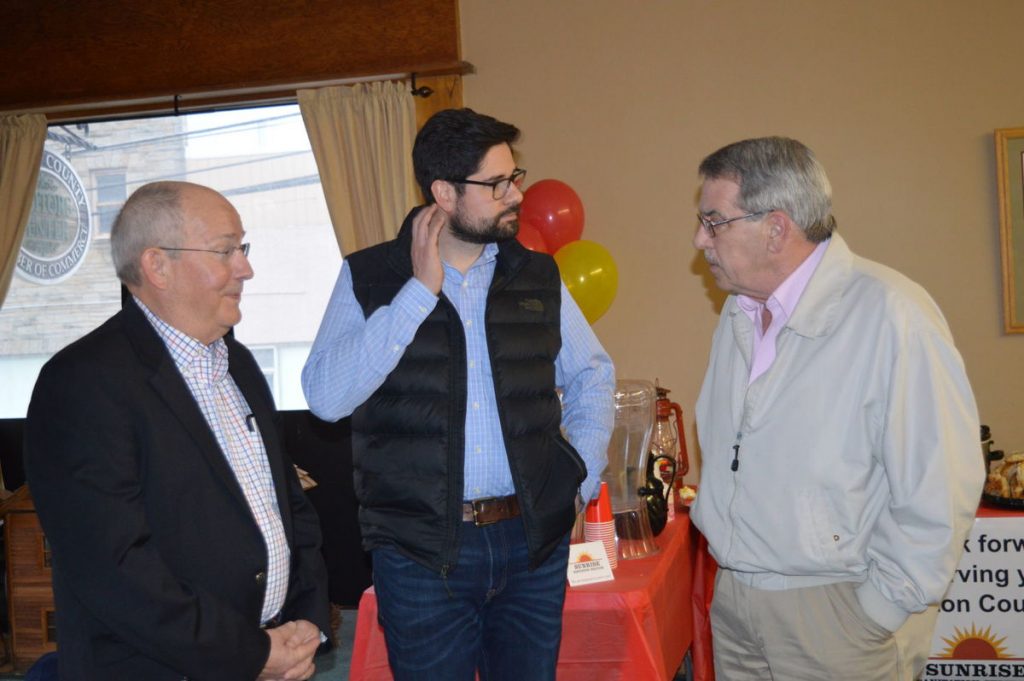 KINGWOOD — Nearly two dozen people filled the Preston County Chamber of Commerce office Thursday evening to hear from the founder and chief executive officer of Sunrise Sanitation Services.
Founder and Chief Executive Officer Stuart Thayer thanked everyone for attending the Business After Hours event, which was a chance for the business community to welcome the sanitation company that will take over Preston Sanitation routes beginning Thursday, March 1.
"We want to do a good job and are committed to doing a good job," Thayer said. "We think we can heal the situation, and we have been practicing this service for 41 years, so we think we have learned the solid waste — and we think we do it right."
Thayer said the company had completed an extensive time and motion evaluation of the routes in Preston County in order to "get it right" when working in the county.
"It took us a month and a half. We ran every route Preston Sanitation ran. We got a count of every customer, how many bags of trash, what the mileage was for every road and how much time it took — so when we starting putting our routes together with our equipment and crews, we would get it right," he said.
Thayer said the company has also added four telephone lines in the office that will be used for taking calls and answering questions. Sunrise Sanitation has also had the Preston Sanitation phone number forwarded to their offices to ease the transition.
Preston County Commissioner Don Smith, who is also the county's Solid Waste Authority chairman, asked customers to be patient.
"I know they have been very frustrated in the past, and we have gotten a lot of complaints, both formal and informal, that we have sent to the West Virginia Public Service Commission," Smith said. "As with everything, there may be hiccups when they start.
"Mr. Thayer has said if someone doesn't get their trash picked up to call their office, and he will send someone out to pick it up and he will make sure the proper crews know to pick up the trash the following week," Smith said. "I think that will be a big help."
Sunrise Sanitation is known for its recycling, and Smith hopes the new Preston County customers will take advantage of the service.
"If people recycle, that is less things that goes into the landfills, and that is where the costs are to the carriers," Smith said. "If the carriers can keep the landfill bill down, that means they can keep the rates down for all customers."
Thayer told the crowd he has many close friends in Preston County, and in 1953, when mines were closing in Tucker County, he wanted to do something for his hometown, county and state.
Thayer's wife, Vivian, said Sunrise had been in talks with Preston Sanitation several years ago, but a deal did not take shape.
"We are happy we are finally able to make this happen," she said.
Sunrise Sanitation can be reached at 301-334-6212 if customers have any questions or concerns. Their office hours are Monday through Friday from 7:30 a.m. until 4:30 p.m.
Staff Writer Theresa Marthey can be reached at (304) 276-1127 or by email at tmarthey@prestonnj.com.