Welcome New Chamber Member "Miller's Eats and Sweets"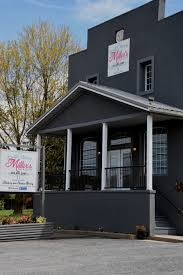 Miller's Eats and Sweets is a bakery and seated dining restaurant in Masontown, WV.  Located in the former Austin Powder company building.
According to owner Kelly Miller, the bakery produces fresh bread every day, plus a variety of pastries like doughnuts, cookies and cheesecakes.  Miller's also bakes bagels and pepperoni rolls.
The espresso bar serves coffee and a variety of coffee drinks such as lattes and cappuccinos.
Servers will also hand-dip a variety of ice cream for milkshakes and sundaes.
Diners may choose from a variety of breakfast options including omelets and lunchtime brings a variety of sandwiches, hoagies, Panini's and burgers.  They also offer a variety of chopped vegetable salads.
The Millers use local farmers to supply fresh eggs and locally raised meat and vegetables in the summertime
Miller's Eats and Sweets is open Monday – Friday 6 am – 2 pm and Saturday & Sunday 8 am – 4 pm