Preston County Parks and Rec 2022 Organization of the Year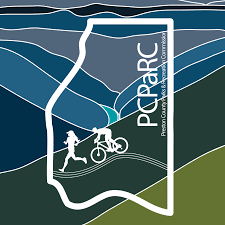 Preston County Parks and Recreation named
Organization of the Year
Preston County Parks and Recreation (PCPaR) became a department of the Preston County Commission in 2012 and is governed by an 11-member volunteer board of commissioners from all around the county.  At the time of its founding, a group of residents came together as they saw opportunities to address the great need for recreational infrastructure and programming in Preston County.
According to Rachelle Thorne, Executive Director PCPaRC, "Since then, as the county's parks and rec department, we are tasked with managing the development, operations, and maintenance of recreational opportunities for the citizens and visitors of Preston County."
"Congratulations PCPaR for being named Organization of the Year.  Your efforts to grow Preston County's outdoor recreation and tourism and offer new opportunities for our community to connect is fantastic.  Thank you for all you do, stated Kristy Ash, Chamber Executive Director.
Some of the ways PCPaR is currently working to achieve their mission include:
Developing safe and inclusive public recreation facilities,
Diversifying the sports opportunities available within the county,
Supporting towns in improving the health and wellness of their local communities, and
Supporting outdoor recreation tourism projects that will increase the quality of life for our residents.
In the effort to fulfill their mission and serve every resident of Preston County, their work is centered on developing both Recreation Infrastructure and Recreation Programming.
"Preston County Parks and Recreation is such an important part of our county. From their summer programming for all ages to the trail connectivity through the towns, PCPaR helps keep our communities active."
Their Recreation Infrastructure projects currently include developing a public park near Preston Memorial Hospital and the Preston County Board of Education and developing rail-trails.
At the park located near the hospital, they are planning a multiuse trail system designed for mountain biking, as well as, they are honored to partner with the non-profit organization, Wade's World of Wonder, to build a state of the art, unique, and inclusive playground for children of all abilities.
As for their rail-trail projects, they feel they are so important for our region and the country. These historic corridors and associated structures, and all the hardworking folks behind them, built and paved the way for our country to be the country it is today. They flourished with activity and they see that these rail-trail projects really capture that spirit and bring these abandoned corridors back to life while also recognizing their significance in shaping our country. Rail-trails are a tool they can use to keep our history alive and celebrate the greatest accomplishments of our past. And in that way, these projects are a symbol of pride, a way to reconnect our communities, and offer our families and visitors a wonderful way to see and experience our beautiful county.
One of their rail-trail projects is building the West Virginia Northern Rail-Trail, including Trailhead Parks in Kingwood and Tunnelton. The past several years they've had a lot of success on the Kingwood end. They were able to remove the dilapidated railroad maintenance buildings, build the first two miles beginning at the Civic Center, put in a parking lot, a trailside pavilion, and a natural playground. Next year they will be turning their attention to Tunnelton and will build almost a mile of rail-trail on that end with trailside activities to enrich the trail experience for trail-users and their friends and families.
Another one of their rail-trail projects is the continued development of the Masontown Trailhead Park in partnership with Mon River Trails Conservancy. They worked with MRTC to rebuild the former Elkins Coal and Coke building into a trail restroom facility. Recently, they had an Outdoor Education Classroom added. They also support MRTC with other Deckers Creek Rail-Trail projects, such as the Reedsville and Arthurdale Connecter trails. And they look forward to partnering with relevant stakeholders to connect the Deckers Creek Rail-Trail to Kingwood where it can join with Friends of the Cheat's Cheat River Rail-Trail and our WV Northern Rail-Trail.
Their Recreation Programming includes the Summer outdoor fitness program, Wellness in the Park, and Preston Rambles which are guided hikes and walks they offer throughout the county. Both of these programs are led by County Wellness Ambassadors and they are working to expand year-round health, wellness, and fitness opportunities.
Also worth mentioning is the Buckwheat Mile. This annual race along the Buckwheat Festival parade route is an event every family should experience. Runners and walkers get to take off and mark the start of the parade while all along the route is lined with crowds of cheering people excited for the racers and the oncoming parade.
"We would like to thank the Preston County Commission, the City of Kingwood, the Towns of Tunnelton and Masontown, Preston County Litter Control, Mon River Trails Conservancy, Wade's World of Wonder, Friends of the Cheat, Country Roads Trail, and those involved with Wellness in the Park for their support and partnership. We would also like to thank all of the entities and donors that have invested in our work over the past 10 years, as well as our volunteers who have contributed their time and in-kind resources. And thank you to the Chamber of Commerce. It is an honor to receive this recognition," stated Thorne
Follow them on Facebook @pcparc or go to our website www.pcparc.org to find out more about us.
Anyone interested in becoming more involved can join Friends of Preston County Parks & Recreation by emailing prestonfriendsofparksandrec@gmail.com.
Anyone interested in learning about becoming a County Wellness Ambassadors can email prestoncountyparks@gmail.com.