Bridges without Boundaries NCWV Business Summit April 9, 2018 – April 10, 2018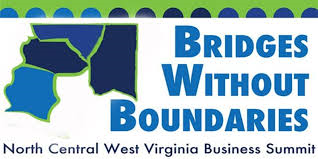 Bridges without Boundaries NCWV Business Summit
April 9, 2018 –
April 10, 2018
Event Description:
One day Regional Business Summit focusing on The Future of North Central WV, Regional Housing Needs & Transportation & Infrastructure. Keynote Speakers include Bill Peduto, Mayor of Pittsburgh, Don Williams, District Engineer of the WV DOT, and Brian Anderson. This is a joint event with Morgantown Area, Marion, Harrison and Preston County Chambers of Commerce.
Schedule of Events:
April 9, 2018 – Business After Hours
5:30 pm -7::30 pm – Hosted by First Energy
April 10, 2018 – Summit Agenda
8:00 – 9:00 am Registration and Continental Breakfast
9:00 am – New China Deal – Brian Anderson
9:45 am – Break
10:00 am – Infrastructure – Don Williams, District Engineer, WV Director of Highways
10:45 am – Break
11:00 am – Housing Panel Speaker(s)
12:00 pm – Lunch sponsored by Clear Mountain Bank
1:00 pm – Keynote Speaker – Bill Peduto, Mayor of Pittsburgh
EVENT SPONSORS:
WesBanco, West Virginia University, Clear Mountain Bank, Huntington Bank, and High Technology Foundation
Register Now
(You will be redirected to Morgantown Chamber's website, they are handling the registration for this event. Please email Preston Chamber at info@prestonchamber.com to let us know your attending.
We look forward to seeing you there!)
Call the Preston County Chamber of Commerce at 304-329-0576 or info@prestonchamber.com to sponsor.